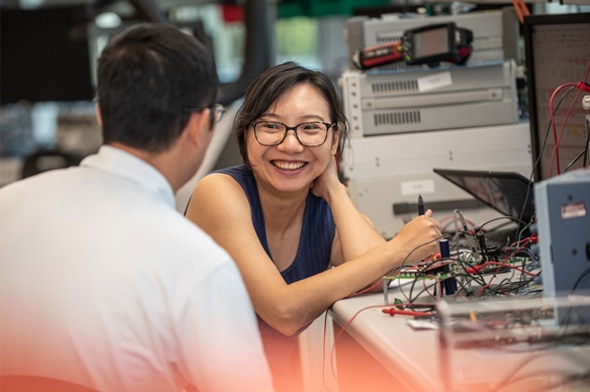 Many cultures. Many opportunities.
When you join Vishay, you are joining a strong international network and one of our unique regions. Each region is distinctive, with its own interesting story.
In Asia, you will find your innovative ideas welcomed by a company whose leadership and prominent product placement in the region provides a fertile place for your ideas and your career to grow. You will do this by working across borders with your colleagues and leaders who are open, collaborative, and supportive of you.
Interesting facts:
Headquarters for Vishay Intertechnology Asia opened in 1999 in Singapore. In 2007, Vishay Asia surpassed $1 billion (USD) in sales for the first time, an achievement we've repeated, along with receiving many industry awards across the region. Today, we have over 12,000 people in Asia across 21 locations.
How will you build the DNA of tech with us?
Define your career as we work together to continue to define the future of electronic technologies.  Imagine what you can do in a career where you are:
Producing products that positively impact nearly everyone, everywhere, all the time. 
Facing fresh challenges and unique opportunities that will drive your career advancement. 
Supported by leaders that give you the freedom to innovate and by teammates around the world that feel like family.
Rewarded for being a self-starter, for being curious and eager to learn, and for your strong ethics and integrity.
Backed by technical and professional training and development at a stable company that is built for the future.
Explore the opportunities today.