Surviving against all odds.
Dr. Felix Zandman's story begins in Poland, where he was born in 1928. He and his family members were among the millions of victims of Nazi persecution before and during World War II. Dr. Zandman survived through inner strength, luck, and a life-saving act of kindness. A Polish family gave him refuge in a house in the woods that the Zandman family owned before the war. Dr. Zandman survived by hiding with his uncle, Sender, and other people in a hole underneath the floorboards for 17 months.
During the long hours of darkness, Sender taught Dr. Zandman trigonometry and advanced mathematics. After they finally left their hiding place, Dr. Zandman, Sender and their fellow escapees spent two weeks evading German soldiers before they were able to cross over to the Russian side of the front and find safety.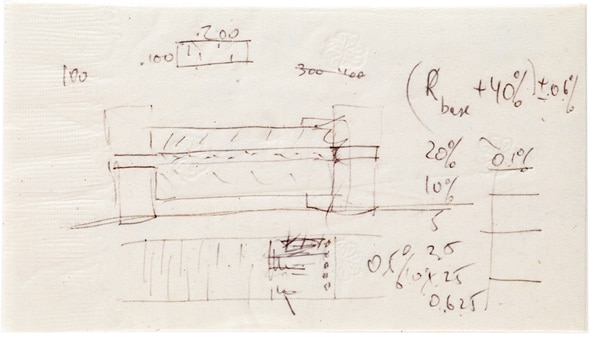 Vishay Power Metal Strip® Resistor
Original sketch (ballpoint pen on paper napkin) by Dr. Felix Zandman, 1996
Image courtesy of National Museum of American History, Behring Center (Washington, D.C.)
A Revolutionary idea.
Dr. Zandman emigrated to France after the war. Armed with the knowledge imparted to him by his uncle, Dr. Zandman earned degrees in mechanical engineering and physics from the University of Nancy and a Ph.D. in physics from the Sorbonne. In 1956, after working successfully in France, the Budd Company recruited Dr. Zandman and he moved to the United States.
While working there, Dr. Zandman developed the idea for a new, revolutionary type of resistor. At the time, all resistors were sensitive to temperature changes, which had a negative impact on their performance. In contrast, Dr. Zandman's foil resistor would be temperature-resistant.
Following the completion of a market research study that "proved" that his resistor had no market potential, Dr. Zandman left to start his own company in 1962. Although he had yet to produce a single one of his resistors, Dr. Zandman was convinced that his theory would be successful
"The most important thing is to do the right thing. Do not take advantage of others.  What matters is how you treat the next person – it will come back to you.  Be just and be helpful."
— Dr. Felix Zandman, founder of Vishay
A Risk that Paid Off
Dr. Zandman named his new company Vishay after his ancestral village in Lithuania, in memory of family members lost during World War II. Starting Vishay was a huge risk. But, Dr. Zandman set to work with $4,000 of his own savings and a loan from his cousin, Alfred P. Slaner. Vishay began with Dr. Zandman, his secretary, and 4,000 square feet of space in Malvern, Pennsylvania. Dr. Zandman hired Jim Starr and Dan Post as technical partners, and within six months, the company produced a temperature-resistant foil resistor that worked perfectly. Vishay went to market with this new resistor, as well as a temperature-resistant strain gage.
The Vishay Bulk Metal® foil resistor outperformed all other types of resistors on the market. It was ideally suited for applications where precision was a priority. The foil resistor was a major breakthrough in electronics. Aerospace, computing and instrumentation were among the markets where Dr. Zandman's disruptive technology took hold. First-year sales for the young operation were $100,000.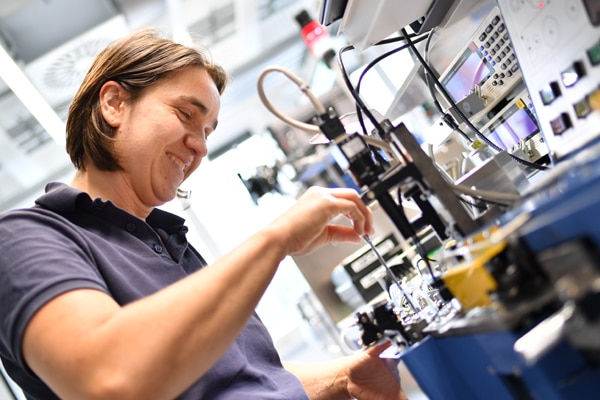 Inspired for the Future
Innovation has always been part of Vishay's DNA. Dr. Zandman predicted that the world we live in today would be built around innovative electronic technology. Macroeconomic growth drivers such as connectivity, mobility, and sustainability generate the need for our products, and Dr. Paul has positioned us to seize these opportunities while continuing our strong financial performance and profitable growth.
Vishay calls itself a family because that is how Dr. Zandman built and operated Vishay—like a family. Today, his high standards and values continue to influence all Vishay personnel, around the world, every day. Vishay's leadership team embodies Dr. Zandman's commitment to high standards and transparency, which extends all the way to Dr. Paul's door, which is open to all.
Dr. Zandman passed away in 2011. Every year, on the date of his passing, we celebrate his life and vision. When you join us, you too will be inspired by his legacy and be proud to part of a company where doing the right thing is part of our DNA.